Technical characteristics of the active optical network
8/7/15
| Technical Article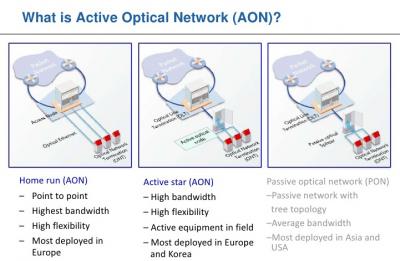 Active optical network central office equipment (CE) and remote equipment (RE) connected via active optical transmission equipment. Transmission technology is the backbone network SDH and PDH technologies have been widely adopted, but the main SDH technology. Remote device mainly to complete the collection business, interface adapter, multiplexing and transmission. Central office equipment mainly to complete the interface adapter, multiplexing and transmission. In addition, the central office equipment to the network element management system also provides network management interface. In the actual construction of the access network, active optical network topology is typically star or ring. Active optical network technology has the following characteristics:

◆ transmission capacity, in the access network with SDH transmission equipment generally provide 155Mbps or 622Mbps interface, and some even offer 2.5Gbps interface. As long as there is enough future traffic requirements, can also increase the transmission bandwidth, transmission bandwidth potential of fiber promises virtually unlimited in terms of the relative demand for access networks.

◆ transmission distance, without the addition of a relay device, the transmission distance of up to 70 to 80 km.

◆ User information isolation is good. Active optical network topologies, whether a star or a ring, from the logical point of view, the transmission mode is point the way user information.

◆ technology is mature, whether SDH or PDH equipment, have been widely used in Ethernet.

Since SDH / PDH technology widely used in the backbone transmission network, the active optical access equipment costs have declined significantly, but compared with other access technologies in the access network, the cost is still relatively high.
Author: FiberOnSale.com

active optical network, technology, SDH, equipment
« Back