What is FTTH?
6/26/15
| Technical Article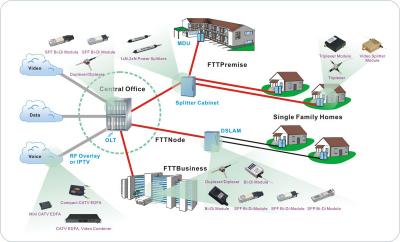 FTTH (Fiber To The Home), the name suggests is an optical fiber directly to the home. Specifically, FTTH refers to the optical network unit (ONU) installed at the home user or business user, a series of optical access user of the optical access network application types except FTTD (fiber to the desk) the closest off. FTTH is a distinctive feature not only provides more bandwidth, but also enhances network data format, speed, wavelength and protocol transparency, relaxes the environmental conditions and power requirements, simplifying maintenance and installation.
Fiber access refers to the complete optical fiber as a transmission medium between the central office and the users. According to the degree of fiber deep users can be divided into FTTB (fiber to the building), FTTC (fiber to the curb) and FTTSA (fiber to the service area) and the like.
FTTH main advantage is five points

First, it is a passive network, from the central office to the user, in the middle can do basically passive;

Second, it is relatively wide bandwidth, long distance fits the way large-scale use of carriers;

Third, because it was carried on the fiber business, and there is no problem;

Fourth, because of its relatively wide bandwidth, supported protocols are flexible;

Fifth, with the development of technology, including point to point, 1.25G and FTTH way have developed a relatively complete function.
Author: FiberOnSale.com

FTTH, ONU, FTTD, FTTB, FTTC, FTTSA, network
« Back