Processing Time

Processes in 24 hours: Processing Time is guaranteed to be shorter.
Typical Processing Time: 1-2 weeks
Shipping Time

FedEx Overnight: Within 1-4 business days
DHL: Within 2-6 business days
EMS: Within 4-15 business days
UPS: Within 2-5 business days
Hong Kong Post Airmail: Within 10-30 business days
Payment Methods
1.25Gbps CWDM SFP 80km 1490nm Single-Mode Optical Transceiver
The
CWDM SFP
small form-factor pluggable (SFP) is a compact optical transceiver used in optical communications for both telecommunication and data communications applications on the CWDM SFP 1490nm wavelength. It is a popular industry format supported by several fiber optic omponent vendors. SFP transceivers are designed to support SONET/SDH, Gigabit Ethernet, Fibre Channel, and other communications standards SFP transceivers are available with a variety of different transmitter and receiver types, allowing users to select the appropriate transceiver for each link to provide the required optical reach over the available optical fiber.
Fiberonsale.com offers
CWDM SFP transceivers
which reach distances from 40KM up to 120KM.
Frequently used wavelength: 1470nm, 1490nm, 1510nm, 1530nm, 1550nm, 1570nm, 1590nm, 1610nm.
Other wavelength options: 1270nm, 1290nm, 1310nm, 1330nm, 1350nm, 1370nm, 1390nm, 1410nm, 1430nm, 1450nm
Features:
Operating Data Rate up to 1.25Gbps
1490nm DFB Laser Transmitter
25dB Power Budget at Least
80km with 9/125 μm SMF
Single 3.3V Power Supply and TTL Control Logic Interface
Hot-Pluggable SFP Footprint Duplex LC Connector Interface
Class 1 FDA and IEC60825-1 Laser Safety Compliant
Compliant with SFP MSA Specification
Compliant with SFF-8472 Digital Diagnostic Monitor Interface
Operating Case Temperature Standard:0ºC~+70ºC
Applications:
Gigabit Ethernet
Fiber Channel
Other Optical Links
Order Information:
| | | | | | | | | | |
| --- | --- | --- | --- | --- | --- | --- | --- | --- | --- |
| Part Number | Description | Data Rate | Wavelength | Reach | Fiber Type | TX Power (dBm) | Rx Sens. (dBm) | DDM/DOM | Temp. Range(°C) |
| ASF-GE-T | 1000Base-T SFP GE CAT5 Copper 100M | 1.25Gbps | | 100 m | CAT5 | | | No | 0~70 |
| ASF85-24-X2 | 1000Base-SX SFP 850nm 550M | 1.25Gbps | 850nm | 550 m | MMF | -8 ~ - 4 | ﹤ -18 | Optional | 0~70 |
| ASF13-24-10 | 1000Base-LX SFP 1310nm 10KM | 1.25Gbps | 1310nm | 10 km | SMF | -10 ~ - 3 | ﹤ -22 | Optional | 0~70 |
| ASF13-24-20 | 1000Base-LX SFP 1310nm 20KM | 1.25Gbps | 1310nm | 20 km | SMF | -9~-3 | ﹤ -22 | Optional | 0~70 |
| ASF13-24-40 | 1000Base-EX SFP 1310nm 40KM | 1.25Gbps | 1310nm | 40 km | SMF | -4~0 | ﹤ -22 | Optional | 0~70 |
| ASF15-24-40 | 1000Base-EX SFP 1550nm 40KM | 1.25Gbps | 1550nm | 40 km | SMF | -4~0 | ﹤ -22 | Optional | 0~70 |
| ASF15-24-80 | 1000Base-ZX SFP 1550nm 80KM | 1.25Gbps | 1550nm | 80 km | SMF | 0~4 | ﹤ -25 | Optional | 0~70 |
| ASF15-24-120 | 1000Base-EZX SFP 1550nm 120KM | 1.25Gbps | 1550nm | 120 km | SMF | 1~5 | ﹤ -30 | Optional | 0~70 |
| ABL34-24-02 | 1.25Gb/s BiDi SFP Tx1310/Rx1490nm 2KM | 1.25Gbps | Tx1310/Rx1490nm | 2 km | SMF | | | Optional | 0~70 |
| ABL43-24-02 | 1.25Gb/s BiDi SFP Tx1490/Rx1310nm 2KM | 1.25Gbps | Tx1490/Rx1310nm | 2 km | SMF | | | Optional | 0~70 |
| ABL34-24-20 | 1.25Gb/s BiDi SFP Tx1310/Rx1490nm 20KM | 1.25Gbps | Tx1310/Rx1490nm | 20 km | SMF | -9~-3 | ﹤ -22 | Optional | 0~70 |
| ABL43-24-20 | 1.25Gb/s BiDi SFP Tx1490/Rx1310nm 20KM | 1.25Gbps | Tx1490/Rx1310nm | 20 km | SMF | -9~-3 | ﹤ -22 | Optional | 0~70 |
| ABL34-24-40 | 1.25Gb/s BiDi SFP Tx1310/Rx1490nm 40KM | 1.25Gbps | Tx1310/Rx1490 | 40 km | SMF | -3~2 | ﹤ -23 | Optional | 0~70 |
| ABL43-24-40 | 1.25Gb/s BiDi SFP Tx1490/Rx1310nm 40KM | 1.25Gbps | Tx1490/Rx1310nm | 40 km | SMF | -3~2 | ﹤ -23 | Optional | 0~70 |
| ABL45-24-80 | 1.25Gb/s BiDi SFP Tx1490/Rx1550nm 80KM | 1.25Gbps | Tx1490/Rx1550nm | 80 km | SMF | 0~5 | ﹤ -24 | Optional | 0~70 |
| ABL54-24-80 | 1.25Gb/s BiDi SFP Tx1550/Rx1490nm 80KM | 1.25Gbps | Tx1550/Rx1490nm | 80 km | SMF | 0~5 | ﹤ -24 | Optional | 0~70 |
| ABL45-24-120 | 1.25Gb/s BiDi SFP Tx1490/Rx1550nm 120KM | 1.25Gbps | Tx1490/Rx1550nm | 120 km | SMF | 1~5 | ﹤ -32 | Optional | 0~70 |
| ABL54-24-120 | 1.25Gb/s BiDi SFP Tx1550/Rx1490nm 120KM | 1.25Gbps | Tx1550/Rx1490nm | 120 km | SMF | 1~5 | ﹤ -32 | Optional | 0~70 |
| ASFxx-24-40 | SFP 1000Base-EX CWDM 40KM | 1.25Gbps | CWDM | 40 km | SMF | -5~0 | ﹤ -22 | Optional | 0~70 |
| ASFxx-24-80 | SFP 1000Base-ZX CWDM 80KM | 1.25Gbps | CWDM | 80 km | SMF | 0~4 | ﹤ -25 | Optional | 0~70 |
| ASFxx-24-120 | SFP 1000Base-EZX CWDM 120KM | 1.25Gbps | CWDM | 120 km | SMF | 1~5 | ﹤ -32 | Optional | 0~70 |
| ASFDxx-24-40 | SFP 1000Base-EX DWDM 40KM | 1.25Gbps | DWDM | 40 km | SMF | | | Optional | 0~70 |
| ASFDxx-24-80 | SFP 1000Base-ZX DWDM 80KM | 1.25Gbps | DWDM | 80 km | SMF | -2~3 | ﹤ -30 | Optional | 0~70 |
1.25G SFP Transceivers
We Offer Compatibles Service: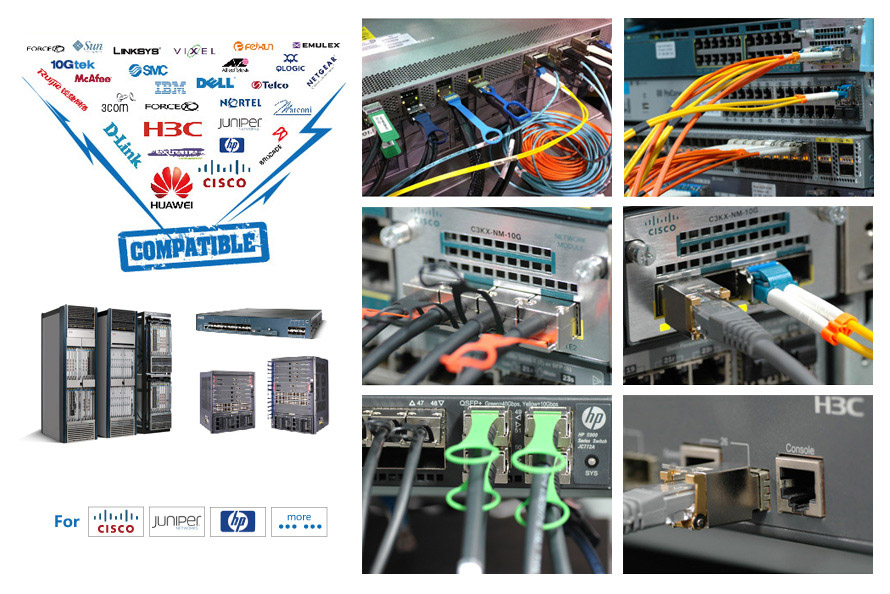 Our Packing:


Shipping Methods:
Payment Methods:
Warranty & Service
Our Factory

Production Environment

Production Environment

Standardized Production Line

Standardized Production Line

Compatible & Application Test

Compatible & Application Test

Packing

Packing

Environment Testing

Warehouse

Warehouse

Warehouse