Processing Time

Processes in 24 hours: Processing Time is guaranteed to be shorter.
Typical Processing Time: 1-2 weeks
Shipping Time

FedEx Overnight: Within 1-4 business days
DHL: Within 2-6 business days
EMS: Within 4-15 business days
UPS: Within 2-5 business days
Hong Kong Post Airmail: Within 10-30 business days
Payment Methods
10GBASE-ER 1330nmTX/1270nmRX BIDI SFP+ 40km Single-Mode Optical Transceiver
BIDI SFP+ transceivers
are designed for bi-directional 10GbE optical data communications such as IEEE 802.3ae 10GBASE-BX by using 1330(1270nm) transmitter and 1270(1330) nm receiver. The transceiver consists of two sections: The transmitter section uses a multiple quantum well 1330(1270) nm DFB laser and is a class 1 laser compliant according to International Safety Standard IEC 60825. The receiver section uses an integrated 1270(1330) nm detector preamplifier (IDP) mounted in an optical header and a limiting post-amplifier IC.
Fiberonsale.com offers
BIDI SFP+ transceivers
which reach distances from 10KM up to 80KM.
Features:
Operating data rate up to 10.3Gbps
1330nm EML Transmitter / 1270nm Receiver
Distance up to 40km over SMF
Single 3.3V Power supply and TTL Logic Interface
LC Connector Interface
Hot Pluggable
Compliant with SFP+ MSA Specification SFF-8431
Compliant with IEEE 802.3ae 10GBASE-ER
Compliant with IEEE 802.3ae 10GBASE-EW
Compliant with SFF-8472
Operating Case Temperature Standard:0ºC~+70ºC
Applications:
10GBASE-ER at 10.3125Gbps
10GBASE-EW at 9.953Gbps
Other Optical Links
Order Information:
| | | | | | | | | | |
| --- | --- | --- | --- | --- | --- | --- | --- | --- | --- |
| P/N | Description | Data Rate | Wave Length | Reach | Fiber Type | TX Power (dBm) | Rx Sens. (dBm) | DDM | Temp. Range(°C) |
| AXS85-192-M3 | SFP+ SR | 10.3Gbps | 850nm | 300 m | MMF | -6~-1 | < -11.1 | Y | 0~70 |
| AXS13-192-M2 | SFP+ LRM | 10.3Gbps | 1310nm | 220 m | MMF | -6.5~-0.5 | < -10 | Y | 0~70 |
| AXS13-192-10 | SFP+ LR | 10.3Gbps | 1310nm | 10 km | SMF | -8.2~0.5 | < -14.4 | Y | 0~70 |
| AXS15-192-40 | SFP+ ER | 10.3Gbps | 1550nm | 40 km | SMF | -4.7~4 | < -15.8 | Y | 0~70 |
| AXS15-192-80 | SFP+ ZR | 10.3Gbps | 1550nm | 80 km | SMF | 0~5 | < -23 | Y | 0~70 |
| AXB23-192-10 | SFP+ BIDI 10km | 10.3Gbps | TX1270/RX1330nm | 10 km | SMF | -5~0 | < -14 | Y | 0~70 |
| AXB32-192-10 | SFP+ BIDI 10km | 10.3Gbps | TX1330/RX1270nm | 10 km | SMF | -5~0 | < -14 | Y | 0~70 |
| AXB23-192-20 | SFP+ BIDI 20km | 10.3Gbps | TX1270/RX1330nm | 20 km | SMF | -2~3 | < -14 | Y | 0~70 |
| AXB32-192-20 | SFP+ BIDI 20km | 10.3Gbps | TX1330/RX1270nm | 20 km | SMF | -2~3 | < -14 | Y | 0~70 |
| AXB23-192-40 | SFP+ BIDI 40km | 10.3Gbps | TX1270/RX1330nm | 40 km | SMF | 1~5 | < -15 | Y | 0~70 |
| AXB32-192-40 | SFP+ BIDI 40km | 10.3Gbps | TX1330/RX1270nm | 40 km | SMF | 1~5 | < -15 | Y | 0~70 |
| AXSxx-192-40 | SFP+ CWDM 40km | 10.3Gbps | CWDM | 40 km | SMF | -1~4 | < -15.8 | Y | 0~70 |
| AXSxx-192-80 | SFP+ CWDM 80km | 10.3Gbps | CWDM | 80 km | SMF | 0~4 | < -23 | Y | 0~70 |
| AXSDxx-192-40 | SFP+ DWDM 40km | 10.3Gbps | DWDM | 40 km | SMF | 0~5 | < -23 | Y | 0~70 |
| AXSDxx-192-80 | SFP+ DWDM 80km | 10.3Gbps | DWDM | 80 km | SMF | 0~5 | < -23 | Y | 0~70 |
SFP+ Transceivers
We Offer Compatibles Service: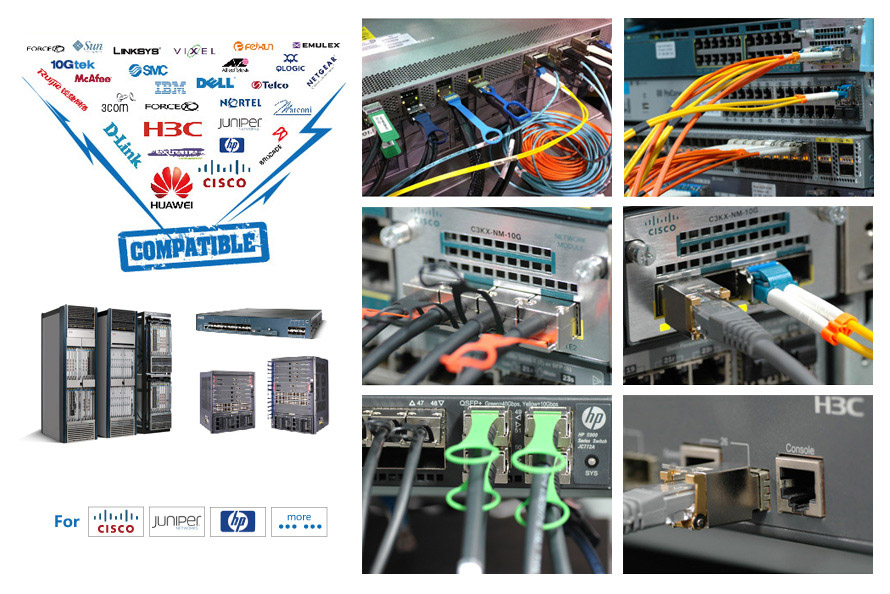 Our Packing:


Shipping Methods:
Payment Methods:
Warranty & Service
Our Factory

Production Environment

Production Environment

Standardized Production Line

Standardized Production Line

Compatible & Application Test

Compatible & Application Test

Packing

Packing

Environment Testing

Warehouse

Warehouse

Warehouse