Processing Time

Processes in 24 hours: Processing Time is guaranteed to be shorter.
Typical Processing Time: 1-2 weeks
Shipping Time

FedEx Overnight: Within 1-4 business days
DHL: Within 2-6 business days
EMS: Within 4-15 business days
UPS: Within 2-5 business days
Hong Kong Post Airmail: Within 10-30 business days
Payment Methods
10GBASE-ER CWDM SFP+ 40km Single-Mode Optical Transceiver
CWDM SFP+ transceiver
is small form factor pluggable module for bi-directional serial optical data communications such as IEEE 802.3ae 10GBASE-LR/LW/ER/ZR. It is with the SFP 20-pin connector to allow hot plug capability. Digital diagnostic functions are available via an I2C. This module is designed for single mode fiber and operates at a nominal wavelength of CWDM wavelength. There are 18 center wavelengths available from 1270 nm to 1610 nm, with each step 20 nm. A guaranteed minimum optical link budget of 14 dB is offered. The transmitter section uses a CWDM multiple quantum well DFB/EML laser and is a class 1 laser compliant according to International Safety Standard IEC-60825. The receiver section uses an integrated InGaAs detector preamplifier (IDP) mounted in an optical header and a limiting post-amplifier IC.
Fiberonsale.com offers
CWDM SFP+ transceivers
which reach distances from 10KM up to 80KM.
Features:
Operating data rate up to 10.3Gbps
1550nm EML Transmitter
Distance up to 40km over SMF
Single 3.3V Power supply and TTL Logic Interface
Duplex LC Connector Interface,Hot Pluggable
Compliant with SFP+ MSA Specification SFF-8431
Compliant with IEEE 802.3ae 10GBASE-ER
Compliant with IEEE 802.3ae 10GBASE-EW
Compliant with SFF-8472
Operating Case Temperature Standard:0ºC~+70ºC
Applications:
10GBASE-ER at 10.31Gbps
10GBASE-EW at 9.95Gbps
1000 Base-LX Ethernet
8x FC at 8.5Gbps
4x FC at 4.25Gpbs
2x FC at 2.125Gpbs
1x FC at 1.0625Gbps
Other optical links
Order Information:
| | | | | | | | | | |
| --- | --- | --- | --- | --- | --- | --- | --- | --- | --- |
| P/N | Description | Data Rate | Wave Length | Reach | Fiber Type | TX Power (dBm) | Rx Sens. (dBm) | DDM | Temp. Range(°C) |
| AXS85-192-M3 | SFP+ SR | 10.3Gbps | 850nm | 300 m | MMF | -6~-1 | < -11.1 | Y | 0~70 |
| AXS13-192-M2 | SFP+ LRM | 10.3Gbps | 1310nm | 220 m | MMF | -6.5~-0.5 | < -10 | Y | 0~70 |
| AXS13-192-10 | SFP+ LR | 10.3Gbps | 1310nm | 10 km | SMF | -8.2~0.5 | < -14.4 | Y | 0~70 |
| AXS15-192-40 | SFP+ ER | 10.3Gbps | 1550nm | 40 km | SMF | -4.7~4 | < -15.8 | Y | 0~70 |
| AXS15-192-80 | SFP+ ZR | 10.3Gbps | 1550nm | 80 km | SMF | 0~5 | < -23 | Y | 0~70 |
| AXB23-192-10 | SFP+ BIDI 10km | 10.3Gbps | TX1270/RX1330nm | 10 km | SMF | -5~0 | < -14 | Y | 0~70 |
| AXB32-192-10 | SFP+ BIDI 10km | 10.3Gbps | TX1330/RX1270nm | 10 km | SMF | -5~0 | < -14 | Y | 0~70 |
| AXB23-192-20 | SFP+ BIDI 20km | 10.3Gbps | TX1270/RX1330nm | 20 km | SMF | -2~3 | < -14 | Y | 0~70 |
| AXB32-192-20 | SFP+ BIDI 20km | 10.3Gbps | TX1330/RX1270nm | 20 km | SMF | -2~3 | < -14 | Y | 0~70 |
| AXB23-192-40 | SFP+ BIDI 40km | 10.3Gbps | TX1270/RX1330nm | 40 km | SMF | 1~5 | < -15 | Y | 0~70 |
| AXB32-192-40 | SFP+ BIDI 40km | 10.3Gbps | TX1330/RX1270nm | 40 km | SMF | 1~5 | < -15 | Y | 0~70 |
| AXSxx-192-40 | SFP+ CWDM 40km | 10.3Gbps | CWDM | 40 km | SMF | -1~4 | < -15.8 | Y | 0~70 |
| AXSxx-192-80 | SFP+ CWDM 80km | 10.3Gbps | CWDM | 80 km | SMF | 0~4 | < -23 | Y | 0~70 |
| AXSDxx-192-40 | SFP+ DWDM 40km | 10.3Gbps | DWDM | 40 km | SMF | 0~5 | < -23 | Y | 0~70 |
| AXSDxx-192-80 | SFP+ DWDM 80km | 10.3Gbps | DWDM | 80 km | SMF | 0~5 | < -23 | Y | 0~70 |
SFP+ Transceivers
We Offer Compatibles Service: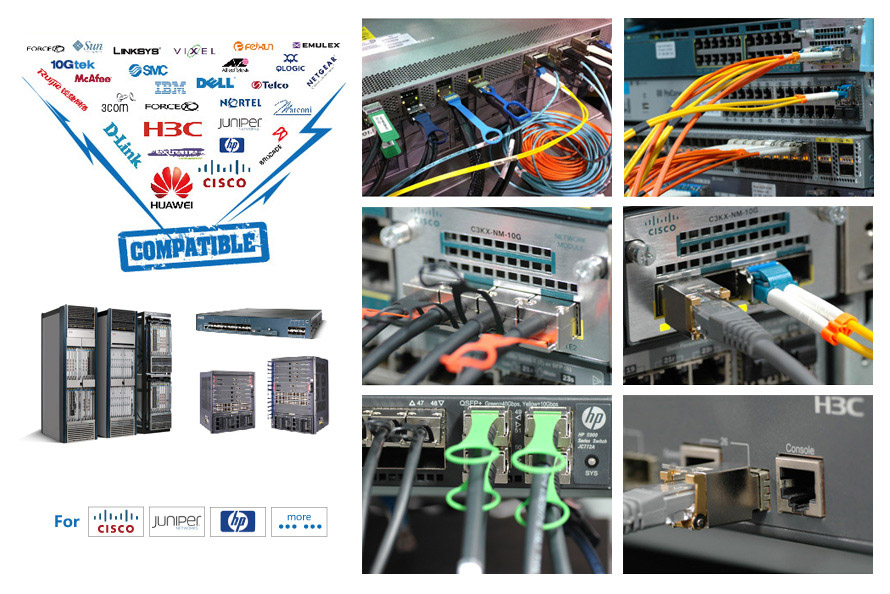 Our Packing:


Shipping Methods:
Payment Methods:
Warranty & Service
Our Factory

Production Environment

Production Environment

Standardized Production Line

Standardized Production Line

Compatible & Application Test

Compatible & Application Test

Packing

Packing

Environment Testing

Warehouse

Warehouse

Warehouse