Processing Time

Processes in 24 hours: Processing Time is guaranteed to be shorter.
Typical Processing Time: 1-2 weeks
Shipping Time

FedEx Overnight: Within 1-4 business days
DHL: Within 2-6 business days
EMS: Within 4-15 business days
UPS: Within 2-5 business days
Hong Kong Post Airmail: Within 10-30 business days
Payment Methods
10GBASE-ER DWDM XFP 40km Single-Mode Optical Transceiver
DWDM XFP
40/80km Small Form Factor 10Gb/s transceivers comply with the current XFP Multi-Source Agreement (MSA) Specification. They support DWDM 10Gb/s SONET/SDH, DWDM 10-Gigabit Ethernet and 10-Gigabit Fibre Channel applications. Digital diagnostics functions are available via a 2-wire serial interface, as specified in the XFP MSA.
Fiberonsale.com offers
DWDM XFP transceivers
which reach distances from 40KM up to 80KM.
Features:
Supports 9.95Gb/s to 11.1Gb/s bit Rates
Maximum Link Length of 40km
Temperature-Stabilized DWDM Rated
EML Transmitter
Duplex LC Connector
Hot-Pluggable XFP Footprint
Power Dissipation < 3.5W
Built-in Digital Diagnostic Functions
100GHz ITU Grid, C Band
Operating Case Temperature Standard:0ºC~+70ºC
Applications:
10GBASE-ER/EW Ethernet
1200-SM-LL-L 10G Fiber Channel
SONET OC-192 IR-2
SDH STM S-64.2b
SONET OC-192 IR-3
SDH STM S-64.3b
ITU-T G.709
Order Information:
| | | | | | | | | | |
| --- | --- | --- | --- | --- | --- | --- | --- | --- | --- |
| Part Number | Description | Data Rate | Wave length | Reach | Fiber Type | TX Power (dBm) | Rx Sens. (dBm) | DDM/DOM | Temp. Range(°C) |
| AXF85-192-M3 | XFP Transceiver 10GBase-SR 850nm 300M | XFP-10G-MM-SR | 10Gbps | 850nm | 300m | OM3 MMF | -6 ~ -1 | < -11 | Y | 0~70 |
| AXF13-192-10 | XFP Transceiver 10GBase-LR 1310nm 10KM | XFP-10GLR-OC192SR | 10Gbps | 1310nm | 10 km | SMF | -3 ~ 1 | < -12 | Y | 0~70 |
| AXF15-192-40 | XFP Transceiver 10GBase-ER 1550nm 40KM | XFP-10GER-OC192IR | 10Gbps | 1550nm | 40 km | SMF | 4 ~ -1 | < -16 | Y | 0~70 |
| AXF15-192-80 | XFP Transceiver 10GBase-ZR 1550nm 80KM | XFP-10GZR-OC192LR | 10Gbps | 1550nm | 80 km | SMF | 5 ~ 0 | < -23 | Y | 0~70 |
| AXF23-192-10 | XFP,10Gb/s,BiDi, 10GBase-LR, SMF, Tx1270/Rx1330nm, 10KM | 10Gbps | TX1270/ RX1330nm | 10 km | SMF | -5 ~ 0 | < -14 | Y | 0~70 |
| AXF32-192-10 | XFP,10Gb/s,BiDi, 10GBase-LR, SMF, Tx1330/Rx1270nm, 10KM | 10Gbps | TX1330/ RX1270nm | 10 km | SMF | -5 ~ 0 | < -14 | Y | 0~70 |
| AXFxx-192-40 | XFP Transceiver 10GBase-ER10Gb/s CWDM 40KM | 10Gbps | CWDM | 40 km | | | | Y | 0~70 |
| AXFxx-192-80 | XFP Transceiver 10GBase-ZR 10Gb/s CWDM 80KM | 10Gbps | CWDM | 80 km | | 5 ~ 0 | < -23 | Y | 0~70 |
| AXFDxx-192-40 | XFP Transceiver 10GBase-ER 10Gb/s DWDM 40KM | 10Gbps | DWDM | 40 km | | | | Y | 0~70 |
| AXFDxx-192-80 | XFP Transceiver 10GBase-ZR 10Gb/s DWDM 80KM | 10Gbps | DWDM | 80 km | | 5 ~ 0 | < -24 | Y | 0~70 |
XFP Transceivers
We Offer Compatibles Service: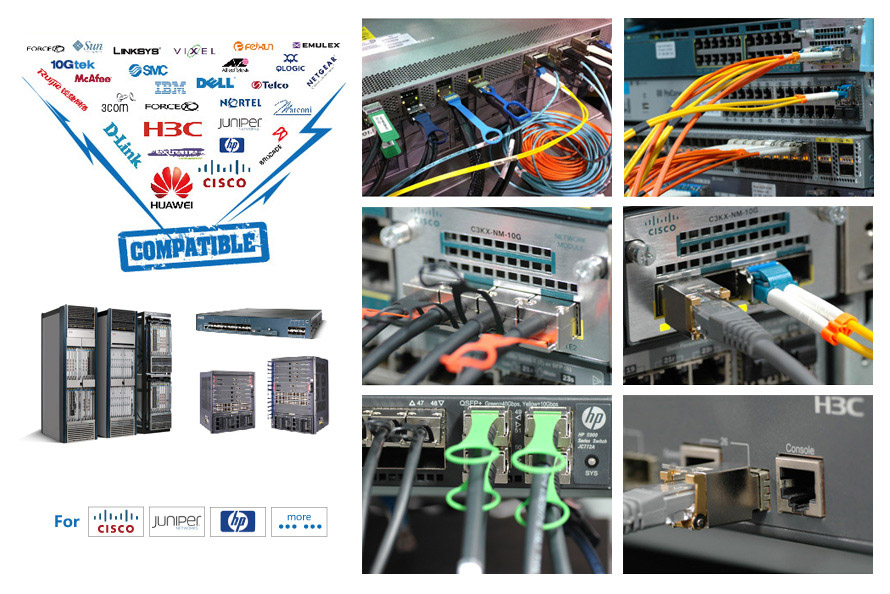 Our Packing:


Shipping Methods:
Payment Methods:
Warranty & Service
Our Factory

Production Environment

Production Environment

Standardized Production Line

Standardized Production Line

Compatible & Application Test

Compatible & Application Test

Packing

Packing

Environment Testing

Warehouse

Warehouse

Warehouse