Processing Time

Processes in 24 hours: Processing Time is guaranteed to be shorter.
Typical Processing Time: 1-2 weeks
Shipping Time

FedEx Overnight: Within 1-4 business days
DHL: Within 2-6 business days
EMS: Within 4-15 business days
UPS: Within 2-5 business days
Hong Kong Post Airmail: Within 10-30 business days
Payment Methods
10M Molex 56Gbps QSFP+ Active Optical Cable
Ideal for high-performance computing storage customers,industry-leading Fourteen Data Rate (FDR) Quad Small Form-factor Pluggable Plus (
QSFP+
)
Active Optical Cables
(AOCs) achieve 14 Gbps data rates over long reaches up to 4km, using a fraction of the power of other brands Low power consumption of less than 1W per cable end Improves overall data-center power consumption and thermal efficiency.Enables deployment of additional ports for increased number of AOCs persystem, resulting in more connectivity options and total system cost savings.
Four bi-directional optical data links per end, each operating at data rates from 1.0 to 14.0 Gbps Compatible with multiple protocols including InfiniBand* Fourteen Data Rate(FDR), 10 Gbps Ethernet, Fibre Channel (8 and 10 Gbps), SAS 2.0 and 3.0(6 and 12 Gbps) and other protocol applications.
Low Bit Error Rate (BER) of10e-18 errors Provides increased data reliability and robustness of link versus standard transceivers with 10e-12 errors per link.
Up to 4km assembly length —singlemode fiber technology Longer reach than copper and multi-mode fiber solutions (100 meters typically), enabling deployment in data center and campus environments.
Lower cost versus standard transceivers and cable assemblies Allows for significantly more economical structured cable links.
Low-loss singlemode pigtail versions available Ensures network is capable of handling future bandwidth increases.
Minimizes future highcost cable upgrades as bandwidth requirements increase.
Firmware is field flashable via an I2C bus Ensures cables can be re-flashed while in the host systemSpecifications.
Features:
CAN/CSA-C22.2 No. 60950-1:2007
CAN/CSA-E60825-1/R:2007
Mates With: QSFP+ Connectors and Cages
Use With: QSFP+ Connectors and Cages
Designed In: Millimeters
RoHS: Yes, RoHS 6/6 Compliant
Halogen Free: Yes
Electrical
Voltage: 3.47V max.
Current: 310mA max.
Power Consumption: 0.78W min., 0.97W max.
Data Rate: 1 to 14 Gbps/Channel
Mechanical
Cable Pull Force: 222.41N min.
Fiber Bend Radius: 25.00mm min.
Fiber Type: Singlemode
Cable Type: Plenum
Physical
Interface: QSFP+
Fibel:9/125μm
Operating Temperature: 0 to +70°C
Applications:
InfiniBand* 14 Gbps (FDR) Equipment
– Switches
– Supercomputers
– High-performance computing clusters
– Servers
IStorage
– SAS 3.0 Equipment
– Storage using SAS 3.0 (12 Gbps) and QSFP+ as the port interconnect
IData Center Designers / Cloud Computing Services Providers
IStorage Area Networks (SAN)
– Fibre Channel (10 Gbps)
IEthernet Applications (10 Gbps)
– Servers
– Routers
– Storage, Fibre Channel over Ethernet(FCoE)
Order Information:
| | | | | | | |
| --- | --- | --- | --- | --- | --- | --- |
| Part Number | Description | Data Rate | Length | Cable Type | BER | Temp. Range(°C ) |
| QSFP-AOC-5M | 40GBASE QSFP+ AOC Cable, 5-Meter (OM3 MMF) | 40Gbps | 5 m | OM3 MMF | < 10-15 | 0~70 |
| QSFP-AOC-15M | 40GBASE QSFP+ AOC Cable , 15-Meter (OM3 MMF) | 40Gbps | 15 m | OM3 MMF | < 10-15 | 0~70 |
| QSFP-4SFP-AOC-5M | QSFP+(40Gb/s) to 4x SFP+(10Gb/s) AOC Cable, 5-Meter | 40Gbps | 5 m | OM3 MMF | < 10-15 | 0~70 |
| QSFP-4SFP-AOC-10M | QSFP+(40Gb/s) to 4x SFP+(10Gb/s) AOC Cable, 10-Meter | 40Gbps | 10 m | OM3 MMF | < 10-15 | 0~70 |
| QSFP-8LC-AOC-5M | 40GBASE QSFP+ AOC cable, 5-Meter, QSFP+ to LC Connetor (OM3 MMF) | 40Gbps | 5 m | OM3 MMF | < 10-15 | 0~70 |
| QSFP-8LC-AOC-10M | 40GBASE QSFP+ AOC cable, 10Meter,QSFP+ to LC Connetor (OM3 MMF) | 40Gbps | 10 m | OM3 MMF | < 10-15 | 0~70 |
| FDR-AOC-10M | Molex 56Gbps QSFP+ Active Optical Cable Singlemode PSM4, 10-Meter | 56Gbps | 10 m | SMF | < 10-15 | 0~70 |
QSFP+ AOC
We Offer Compatibles Service: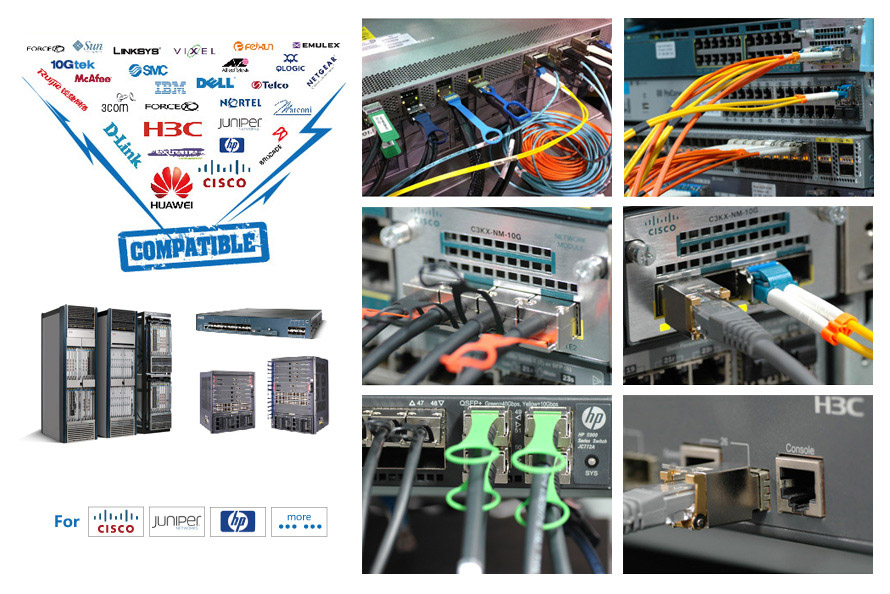 Our Packing:


Shipping Methods:
Payment Methods:
Warranty & Service
Our Factory

Production Environment

Production Environment

Standardized Production Line

Standardized Production Line

Compatible & Application Test

Compatible & Application Test

Packing

Packing

Environment Testing

Warehouse

Warehouse

Warehouse