Processing Time

Processes in 24 hours: Processing Time is guaranteed to be shorter.
Typical Processing Time: 1-2 weeks
Shipping Time

FedEx Overnight: Within 1-4 business days
DHL: Within 2-6 business days
EMS: Within 4-15 business days
UPS: Within 2-5 business days
Hong Kong Post Airmail: Within 10-30 business days
Payment Methods
40Gbps QSFP+ eSR4 Optical Transceiver Module
10Gtek's QSFP-40G-eSR4 Module This is a parallel 40Gb/s Quad Small Form-factor Pluggable (QSFP+)
optical module
. It provides increased port density and total system cost savings. The QSFP+ full-duplex optical module offers 4 independent transmit and receive channels, each capable of 10Gb/s operation for an aggregate data rate of 40Gb/s on 300 meters of
OM3 multi-mode fiber
.
An optical fiber ribbon cable with an
MTP/MPO
connector can be plugged into the
QSFP+ module
receptacle. Proper alignment is ensured by the guide pins inside the receptacle. The cable usually can not be twisted for proper channel to channel alignment. Electrical connection is achieved through an MSA-compliant 38-pin edge type connector.
The module operates by a single +3.3V power supply. LVCMOS/LVTTL global control signals, such as Module Present, Reset, Interrupt and Low Power Mode, are available with the modules. A 2-wire serial interface is available to send and receive more complex control signals, and to receive digital diagnostic information. Individual channels can be addressed and unused channels can be shut down for maximum design flexibility.
The product is designed with form factor, optical/electrical connection and digital diagnostic interface according to the QSFP+ Multi-Source Agreement (MSA). It has been designed to meet the harshest external operating conditions including temperature, humidity and EMI interference. The module offers very high functionality and feature integration, accessible via a two-wire serial interface.
Features:
4 independent full-duplex channels
Up to 11.2Gb/s data rate per channel
MTP/MPO optical connector
QSFP+ MSA compliant
Digital diagnostic capabilities
Up to 300m transmission on OM3 multi-mode ribbon fiber
CML compatible electrical I/O
Single +3.3V power supply
Operating case temperature: 0ºC to 70ºC
XLPPI electric interface
Maximum power consumption 1.5W
RoHS-6 compliant
Applications:
Rack to rack
Data Center
Infiniband QDR, DDR and SDR
40G Ethernet
Order Information:
| | | | | | | | | | |
| --- | --- | --- | --- | --- | --- | --- | --- | --- | --- |
| Part Number | Description | Data Rate | Wavelength | Reach | Connector | Fiber Type | TX Power (dBm) | Rx Sens. (dBm) | Temp. Range(°C) |
| QSFP-SR4 | QSFP+ SR4 | 44.8Gbps | 850nm | 150 m | MTP/MPO | MMF | -7.6~1 | < -9.5 | 0~70 |
| QSFP-eSR4 | QSFP+ eSR4 | 44.8Gbps | 850nm | 300 m | MTP/MPO | MMF | -7.3~1 | < -9.9 | 0~70 |
| QSFP-IR4 PSM | QSFP+ IR4 PSM | 44.8Gbps | 1310nm | 1.4 km | MTP/MPO | SMF | -5.5~1.5 | < -11.5 | 0~70 |
| QSFP-LR4 PSM | QSFP+ LR4 PSM | 44.8Gbps | 1310nm | 10 km | MTP/MPO | SMF | -5.5~1.5 | < -12.6 | 0~70 |
| QSFP-IR4 | QSFP+ IR4 | 44.8Gbps | CWDM | 2 km | LC | SMF | -7~2.3 | < -11.7 | 0~70 |
| QSFP-LR4 | QSFP+ LR4 | 44.8Gbps | CWDM | 10 km | LC | SMF | -7~2.3 | < -13.7 | 0~70 |
| QSFP-ER4 | QSFP+ ER4 | 44.8Gbps | CWDM | 30 km | LC | SMF | -3.7~4.5 | < -20.2 | 0~70 |
QSFP+ Transceivers
We Offer Compatibles Service: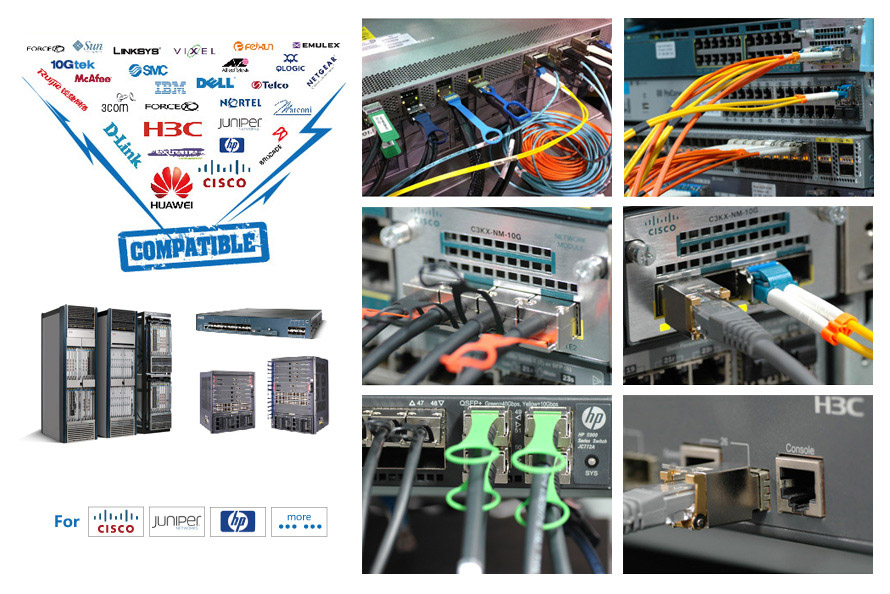 Our Packing:


Shipping Methods:
Payment Methods:
Warranty & Service
Our Factory

Production Environment

Production Environment

Standardized Production Line

Standardized Production Line

Compatible & Application Test

Compatible & Application Test

Packing

Packing

Environment Testing

Warehouse

Warehouse

Warehouse