Processing Time

Processes in 24 hours: Processing Time is guaranteed to be shorter.
Typical Processing Time: 1-2 weeks
Shipping Time

FedEx Overnight: Within 1-4 business days
DHL: Within 2-6 business days
EMS: Within 4-15 business days
UPS: Within 2-5 business days
Hong Kong Post Airmail: Within 10-30 business days
Payment Methods
50CM(1.65ft) Passive AWG30 40GBASE QSFP+ to 4 XFP Breakout Cable
Fiberonsale's revolutionary 5m (16.4 ft) QSFP to 4x XFP Splitter Cable offers IT professionals a cost-effective interconnect solution for merging 40G QSFP and 10G XFP enabled host adapters, switches and servers.
For typical applications, users can install this splitter cable between an available QSFP port on their 40-Gigabit/s rated switch and feed up to four upstream 10GbE-XFP enabled switches. Each QSFP-XFP splitter cable features a single QSFP connector (SFF-8436) rated for 40-Gb/s on one end and (4) XFP connectors (INF-8077i), each rated for 10-Gb/s, on the other.
Fiberonsale.com is the manufacturer of QSFP to 4 XFP Splitter Cables that designs and sources every subassembly in-house guaranteeing complete control over product performance, quality and consistency. Examples include our widely respected board-as-connector platform which is direct-welded to the wire and encased in a robust Zinc-Nickel backshell for superior crosstalk and EMI performance. Cable available in 0.5M (1.7ft), 1m (3.3ft) lengths to accommodate your installation requirements.
This new version QSFP+ to 4 XFP breakout cable opens EEPROM for customer re-coding for different applications.
Features:
QSFP+ (40G) to 4x XFP (10G) Splitter Cable - 0.5m (1.7 ft)
Connector A: (1) QSFP 40.0 Gbps Rated Connector (SFF-8436 Compliant)
Connector B: (4) XFP 10.0 Gbps Rated Connectors (INF-8077i Compliant)
Economically Links up a QSFP port with an Upstream 10GbE-XFP Switch
AWG30
Protocol agnostic support of 40GbE, QDR InfiniBand, SAS & Fibre Channel
Up to 10.3125 Gbps transfer rate per XFP channel (40 Gbps aggregate)
Robust Zinc die-cast XFP & QSFP connectors with pull-to-release latching
Bridge the gap between your 10G and 40G capable switches/host adapters
Low cross-talk and pair-to-pair skew maintains signal integrity
Fully compliant to the latest XFP & QSFP MSA (Multi-Source-Agreement)
Supports all current 10-Gigabit Ethernet and 40-Gigabit Ethernet standards
Designated form factor and electrical compliance for QDR InfiniBand
The perfect direct attached storage splitter cable for Fibre Channel & SAS
Enjoy a reduced power budget and lower port cost compared to optical
Fully RoHS compliant for environmental protection
Order Information:
| | | | | | |
| --- | --- | --- | --- | --- | --- |
| Part Number | Description | Data Rate | Length | Cable Type | Temp. Range(°C) |
| CAB-QSFP-P1M | 40GbE QSFP+ Copper Cable ,1-Meter, Passive, QDR | 40Gbps | 1 m | Passive Twinax | 0~70 |
| CAB-QSFP-P3M | 40GbE QSFP+ Copper Cable , 3-Meter, AWG 30, Passive, QDR | 40Gbps | 3 m | Passive Twinax | 0~70 |
| CAB-QSFP-P5M | 40GbE QSFP+ Copper Cable, 5-Meter, AWG 26, Passive, QDR | 40Gbps | 5 m | Passive Twinax | 0~70 |
| CAB-QSFP-P7M | 40GbE QSFP+ Copper Cable, 7-Meter, AWG26, Passive, QDR | 40Gbps | 7 m | Passive Twinax | 0~70 |
| CAB-QSFP/4SFP-P1M | QSFP+ to 4 SFP+ Copper Breakout Cable, 1-Meter, Passive | 40Gbps | 1 m | Passive Twinax | 0~70 |
| CAB-QSFP/4SFP-P2M | QSFP+ to 4 SFP+ Copper Breakout Cable, 2-Meter, Passive | 40Gbps | 2 m | Passive Twinax | 0~70 |
| CAB-QSFP/4SFP-P3M | QSFP+ to 4 SFP+ Copper Breakout Cable, 3-Meter, Passive | 40Gbps | 3 m | Passive Twinax | 0~70 |
| CAB-QSFP/4SFP-P5M | QSFP+ to 4 SFP+ Copper Breakout Cable, 5-Meter, Passive | 40Gbps | 5 m | Passive Twinax | 0~70 |
| CAB-QSFP/CX4-P1M | QSFP to CX4 DDR Cable, 1-Meter, Passive | 40Gbps | 1 m | Passive Twinax | 0~70 |
| CAB-QSFP/CX4-P3M | QSFP to CX4 DDR Cable, 3-Meter, Passive | 40Gbps | 3 m | Passive Twinax | 0~70 |
| CAB-QSFP/CX4-P5M | QSFP to CX4(SFF-8470) DDR Cable, 5-Meter, Passive | 40Gbps | 5 m | Passive Twinax | 0~70 |
| CAB-QSFP/8088-P1M | QSFP to MiniSAS(SFF-8088) DDR Cable, 1-Meter | 40Gbps | 1 m | Passive Twinax | 0~70 |
| CAB-QSFP/8088-P3M | QSFP to MiniSAS(SFF-8088) DDR Cable, 3-Meter | 40Gbps | 3 m | Passive Twinax | 0~70 |
| CAB-QSFP/8088-P5M | QSFP to MiniSAS(SFF-8088) DDR Cable, 5-Meter | 40Gbps | 5 m | Passive Twinax | 0~70 |
| CAB-Q14/Q14-P1M | 56Gb/s QSFP+ FDR DAC Cable, 1-Meter | 56Gbps | 1 m | Passive Twinax | 0~70 |
| CAB-Q14/Q14-P3M | 56Gb/s QSFP+ FDR DAC Cable, 3-Meter | 56Gbps | 3 m | Passive Twinax | 0~70 |
QSFP+ DAC
We Offer Compatibles Service: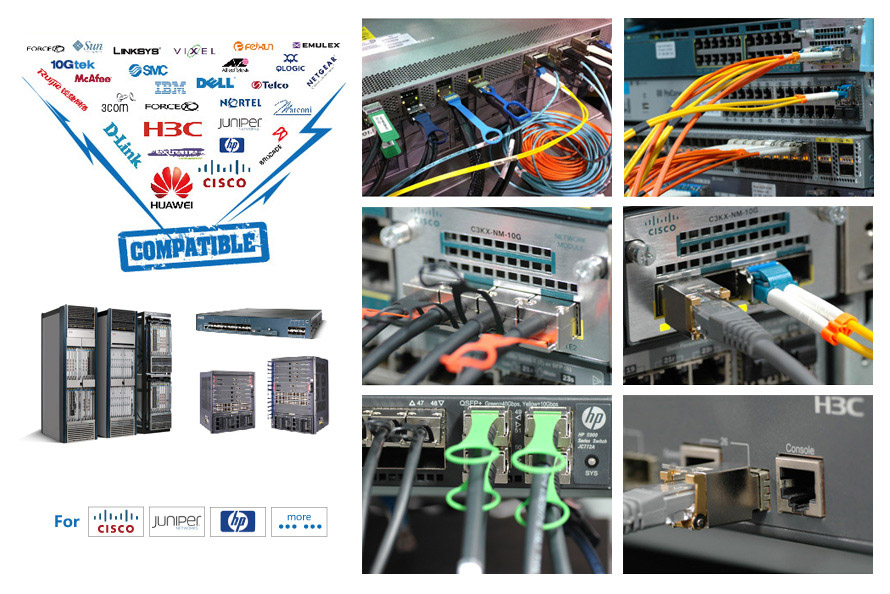 Our Packing:


Shipping Methods:
Payment Methods:
Warranty & Service
Our Factory

Production Environment

Production Environment

Standardized Production Line

Standardized Production Line

Compatible & Application Test

Compatible & Application Test

Packing

Packing

Environment Testing

Warehouse

Warehouse

Warehouse