Processing Time

Processes in 24 hours: Processing Time is guaranteed to be shorter.
Typical Processing Time: 1-2 weeks
Shipping Time

FedEx Overnight: Within 1-4 business days
DHL: Within 2-6 business days
EMS: Within 4-15 business days
UPS: Within 2-5 business days
Hong Kong Post Airmail: Within 10-30 business days
Payment Methods
50CM Active Copper AWG30 10Gb XFP Direct Attach Cable
XFP Infiband Cables were developed to provide 10Gb/s serial links for a wide range of applications including standards such as OC192/STM-64, G.709, and 10 Gigabit Ethernet, 10G Fibre Channel, and other industry standards. It is ideally suited for 10 GbE datacom (belly-to-belly for high density applications) and storage area network (SAN/NAS) applications based on the IEEE 802.3ae and Fibre Channel standards.
XFP to XFP Cable is a low cost XFP-SR Optical transceiver replacement solution, which have equal performance with XFP SR transceivers. This XFP directly attached twinax cable assemblies are suitable for very short distances (0.5m to 15m) and offer a highly cost-effective way to connect within racks and across adjacent racks. Transmitter and receiver are separate within a wide temperature range and offers optimum heat dissipation and excellent electromagnetic shielding thus enabling high port densities.
This XFP direct-attached twinax cable assembly is 10Gtek' innovatively designed cable, which is controlled by the MCU on the extraction of A0 and A0H adress bit to meet the requirements of the XFP MSA.
Features:
XFP to XFP Connetor
Copper Active
0.5 Meter
AWG30
Compliant to XFP MSA
Compliance to Fiber Channel
1200-M5-SN-l, 1200-M5E-SN-l,
1200-M6-SN-l at 10.51875Gbit/s
Low power consumption
Wide operating temperature range:
Standard: 0ºC to +70ºC
Industrial: -40ºC to +85ºC
Hot pluggable
Lead free
AC coupling of PECL signals
Excellent EMI performance
High reliability
RoHS Compliant
Applications:
Data networking
Telecommunications switches (SONET)
Enterprise storage area network(SAN/NAS)
Network switches and routers
10 GbE datacom (belly-to-belly for high density applications)
Order Information:
| | | | | | |
| --- | --- | --- | --- | --- | --- |
| Part Number | Description | Data Rate | Length | Cable Type | Temp. Range(°C) |
| CAB-XFP-P1M | 10GbE XFP to XFP Copper Cable, 1-Meter, Passive | 10Gbps | 1 m | Passive Twinax | 0~70 |
| CAB-XFP/SFP-P1M | 10GbE XFP to SFP+ Cable, 1-Meter, Passive | 10Gbps | 1 m | Passive Twinax | 0~70 |
| CAB-XFP-A3M | 10GbE XFP to XFP Copper Cable, 3-Meter, Active | 10Gbps | 3 m | Active Twinax | 0~70 |
XFP DAC cables
We Offer Compatibles Service: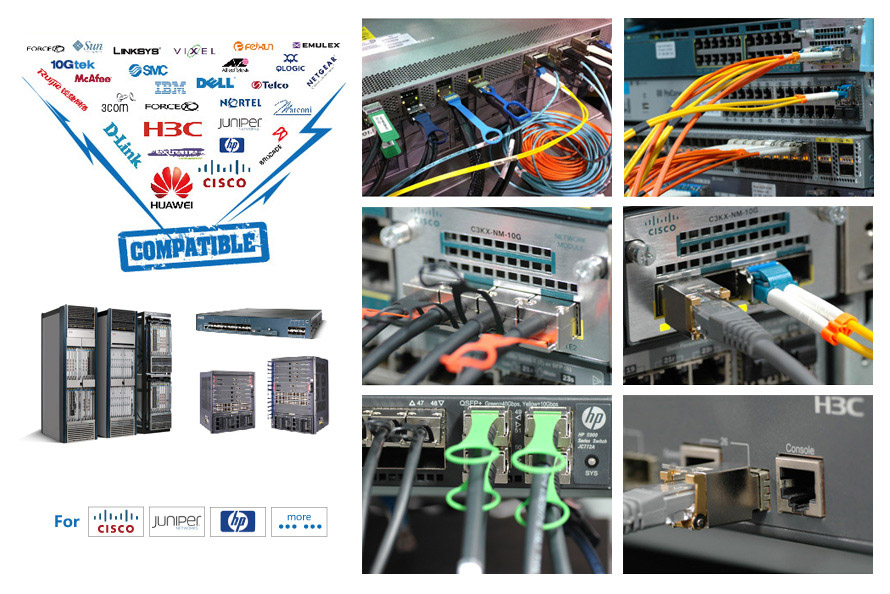 Our Packing:


Shipping Methods:
Payment Methods:
Warranty & Service
Our Factory

Production Environment

Production Environment

Standardized Production Line

Standardized Production Line

Compatible & Application Test

Compatible & Application Test

Packing

Packing

Environment Testing

Warehouse

Warehouse

Warehouse