Processing Time

Processes in 24 hours: Processing Time is guaranteed to be shorter.
Typical Processing Time: 1-2 weeks
Shipping Time

FedEx Overnight: Within 1-4 business days
DHL: Within 2-6 business days
EMS: Within 4-15 business days
UPS: Within 2-5 business days
Hong Kong Post Airmail: Within 10-30 business days
Payment Methods
Apair HDMI Fiber Optic Transceiver Module for full HD 4K HDMI 1.4
WG-HOMT-002 and WG-HOMR-002 are enclosed,HDMI optical modules designed to support transmission of an uncompressed lossless HDMI 1.4a signal over multimode optical fiber at 850nm, up to distances of 300m, at aresolution of 4Kx2K. Using 10Gtek SERDES technology, HOMT-002 converts anHDMI signal to a single 10Gb/s serial data stream for transmission over two optical fibers.HOMR-002 converts the serial data back to an HDMI signal. The transceivers are RoHScompliant and lead-free per requirements in Europe and China.
Features:
● HDMI 1.4a Support
● HDCP Support
● DDC CEC HPD Signal Support
● 10Gtek Transmitter Optical Subassembly Technology
● Serialized Data Stream Using 10Gtek SD1502 and SD1512
● Supports up to 300m Transmission Distance at up to 10.3Gbps with OM3 Multimode Fiber
● Supports All Modes up to 4Kx2Kx30 Resolution
● Standard HDMI Connector
● Integrated USB Connector for Power
● Double Power Supply (HDMI 5V&USB)*
● Hot-Pluggable
● EMI/RFI Resistant
● 850nm VCSEL and PIN Photodetector
● 2-Wire Interface
● Typical Power Dissipation 1420 mW (Source), 1220 mW (Sink)
● Operating Case Temperature: 0~70°C
Applications:
● Optical HDMI for Consumer and Industrial Applications
● Digital home theatre
● Screen splicing wall
● Medical imaging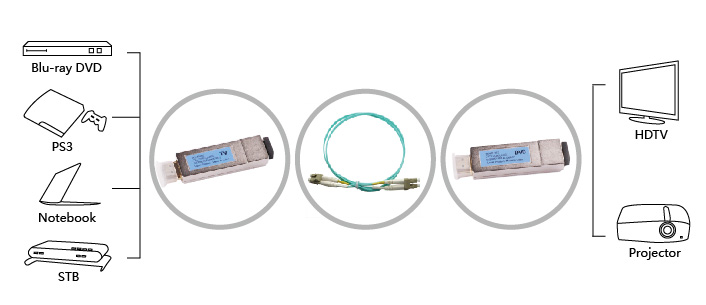 Advantages:
1. HDMI cable the distance is not flexible, and need professional workers, the customer can't change the distance easily. But our system is according to the environment.
2. If customer plan to fix the HDMI cable in the inner pipe, because HDMI connector is bigger, it is hard to Elongation and shortening.
3. Because this system use optical fiber as the transmission medium, it can reach 300m and the signal support Full HD 1080P, ,4K*2K, 3D.But HDMI cable is not able to.
Absolute Maximum Ratings(ESTIMATED):

Key Parameters: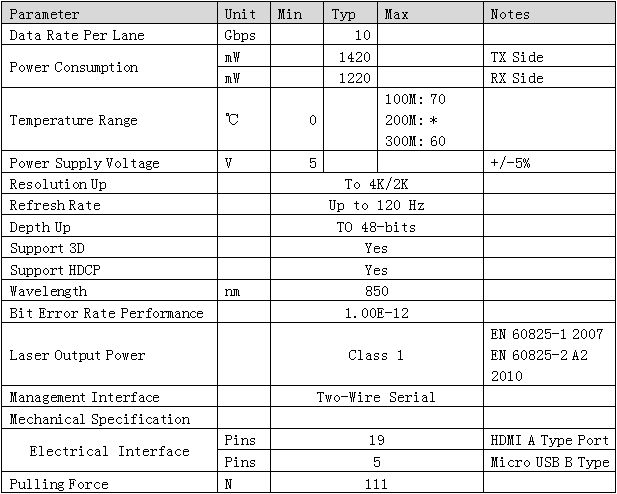 Remark:
1. To ensure the signal quality,please use OM3 Twin-core multimode LC-LC fiber
2. Normal optical fiber may not work or the signal is not so good.
3. Sometimes short transmit will be work, if long distance does not work please check the cable or connection.
4. Interface description(Omit):Please refer to the real product.
Connection:
1. Connect HDMI signal input(For example DVD,PS3,STB,laptop ect)to transmitter input;
2. Connect multimode, twin-core fiber, 850nm, double LC-LC interface,10G,50/125um, patch cord LC-LC OM3 optical fiber
3. Connect the receiver HDMI output to display machine HDMI signal input.
4. Power on.
Our Factory

Production Environment

Production Environment

Standardized Production Line

Standardized Production Line

Compatible & Application Test

Compatible & Application Test

Packing

Packing

Environment Testing

Warehouse

Warehouse

Warehouse