Processing Time

Processes in 24 hours: Processing Time is guaranteed to be shorter.
Typical Processing Time: 1-2 weeks
Shipping Time

FedEx Overnight: Within 1-4 business days
DHL: Within 2-6 business days
EMS: Within 4-15 business days
UPS: Within 2-5 business days
Hong Kong Post Airmail: Within 10-30 business days
Payment Methods
QSFP Electrical Passive Loopback
QSFP/QSFP+ Passive Electrical Loopback is used for testing QSFP/QSFP+ transceiver ports in board level test. By substituting for a full-featured QSFP/ QSFP+ transceiver, the electrical loopback provides a cost effective low loss method for QSFP/QSFP+ port testing.
The
loopback module
is packaged in a standard MSA housing compatible with all QSFP/QSFP+ ports. Transmit data from the host is electrically routed, (internal to the loopback module), to the receive data outputs and back to the host. It provides an economical way to exercise QSFP/QSFP+ ports during R&D validation, production testing, and field testing.
This loopback module provides QSFP/QSFP+ power Class 2, 3, 4 (standard), or 1,5,6 loading using a customer supplied +3.3V voltage supply.
Features
●Customizable power consumption
●Custom Memory Maps
●Supports 40Gb/s total data rate
●Full SFF-8436 MSA Comp
●Hot-pluggable MSA foot print
●Temperature range from 0° to 80°C
●Compliant with SONET, SDH, GBE, FC
●MSA Compliant EEPROM
●Power Consumption Different Option
●Internal Attenuation Different Option
Applications
●QSFP Port/System
●Server blade testing
●ITU-T Recommendation G.957 (STM-1, 4 & 16)...
●Ethernet IEEE 802.3 (Gigabit, 10 Gigabit and 40 Gigabit Ethernet)
●SDR, DDR and QDR
●SONET, SDH, GBE, FC Support, Infiniband
Features:
Customizable power consumption
Custom Memory Maps
Supports 40Gb/s total data rate
Full SFF-8436 MSA Comp
Hot-pluggable MSA foot print
Temperature range from 0° to 80°C
Compliant with SONET, SDH, GBE, FC
MSA Compliant EEPROM
Power Consumption Different Option
Internal Attenuation Different Option
Applications:
QSFP Port/System
Server blade testing
ITU-T Recommendation G.957 (STM-1, 4 & 16)...
Ethernet IEEE 802.3 (Gigabit, 10 Gigabit and 40 Gigabit Ethernet)
SDR, DDR and QDR
SONET, SDH, GBE, FC Support, Infiniband
We Offer Compatibles Service: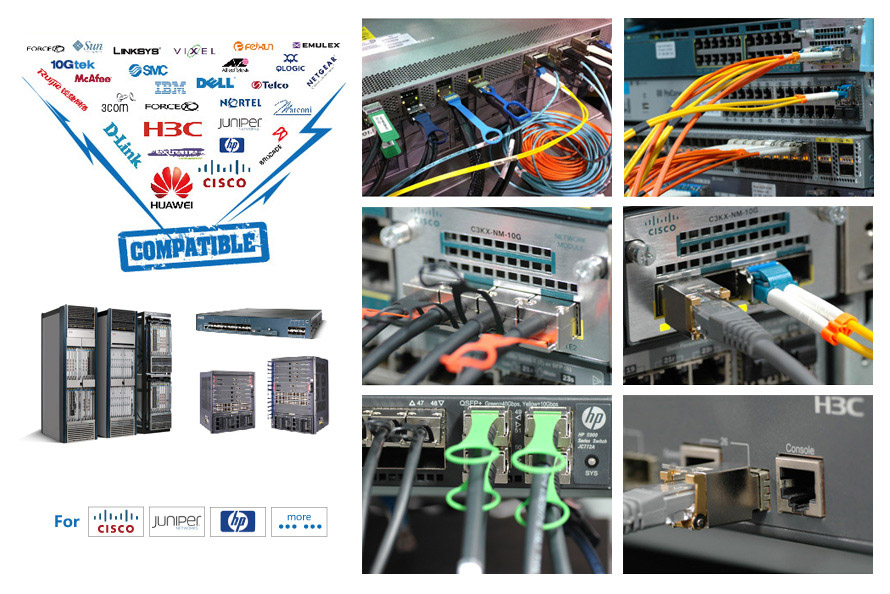 Our Packing:


Shipping Methods:
Payment Methods:
Warranty & Service
Our Factory

Production Environment

Production Environment

Standardized Production Line

Standardized Production Line

Compatible & Application Test

Compatible & Application Test

Packing

Packing

Environment Testing

Warehouse

Warehouse

Warehouse